Office Rents Dive as Vacancies Rise
Rent for office space is falling at the fastest pace in more than a decade as vacancies create a glut and landlords slash prices to attract tenants.
Nationwide, effective office rents fell 8.5% in the third quarter compared with the same period a year ago, the steepest year-over-year decline since 1995, according to Reis Inc., a New York real-estate research firm.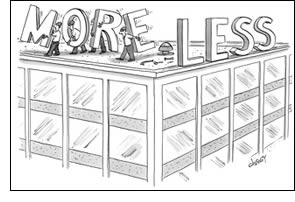 The decline came as companies returned a net 19.6 million square feet of space to landlords in the third quarter, slightly more than in the second quarter. For the first three quarters of this year, the net decline in occupied space totaled a record 64.2 million square feet, the highest so-called negative absorption recorded since Reis began tracking the data in 1980. (That doesn't count space that left the market as a result of the 2001 terrorist attacks.)
The vacancy rate, meanwhile, hit 16.5%, a five-year high, according to Reis.
Declining rents and rising vacancies in the office sector signal more woes for the commercial-real-estate market, which already faces a lack of credit and plummeting property values. With landlords more likely to default, financial institutions, which hold trillions of dollars in commercial-real-estate debt also face more pain. "It means more losses for the banks, because they will have to write off more bad debt," said Victor Calanog, director of research for Reis.
For tenants, however, falling rents represent opportunities to save. Landlords are offering concessions, in the form of free rent and build-out costs. "There's a recognition [from some companies] that this is probably a bottom, let me lock in long term," said Mary Ann Tighe, a New York-based leasing broker with CB Richard Ellis, who has negotiated corporate relocations for tenants including advertising firm Ogilvy & Mather and retailer Limited Brands.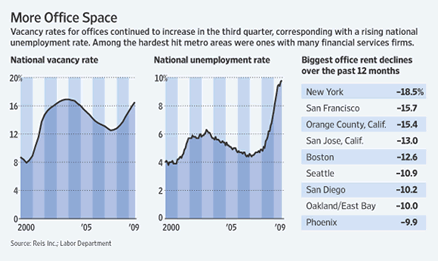 As bad as the current environment is for landlords, analysts say it will worsen as unemployment continues to rise. "Even though the technical recession may be over, the labor market typically takes anywhere from 18 to 24 months to bounce back in a consistent way," said Mr. Calanog, who predicts vacancy will rise through 2010 and may not peak until 2011. "If employers are still shedding jobs, they are also going to shed space."
Vacancies are highest in areas with poor housing markets and industrial cities. They are approaching historic highs in Southern California; Las Vegas; Phoenix; southwest Florida; Detroit; Dayton, Ohio; and Hartford, Conn. Other cities, including Dallas and other parts of Texas, and Atlanta, are seeing high vacancy rates largely as a result of overbuilding.
Rent declines were steepest in big cities with large financial sectors, which saw the greatest run-up in rents in 2006 and 2007. They include Seattle, which has been slammed by the failure of Washington Mutual Inc., New York and San Francisco. But the office market deteriorated broadly across virtually all regions: Of the 79 metro areas that Reis tracks, office vacancies rose in 72 of them and effective rents declined in 68 of them.
In Boston, intellectual-property law firm Fish & Richardson PC recently signed a lease for 124,000 square feet of space in a new development under construction on the South Boston waterfront, paying about $48 a foot with about $85 a foot in tenant improvements from the landlord, according to a person familiar with the deal -- compared with the roughly $55 a foot the firm is paying now to landlord Equity Office.
In its attempt to persuade the tenant to stay, Equity Office, which is owned by private-equity firm The Blackstone Group, initially offered the firm $84.50 a foot in December 2007, but dropped the price over time to stay competitive and sent wine and champagne gift baskets to all of the firm's 45 principals, according to Tim French, Fish & Richardson's Boston managing principal.
"We were like the belle of the ball," said Mr. French.
By CHRISTINA S.N. LEWIS
Wall Street Journal 10/7/09
Need Commercial Space?
Zeve Associates will help you secure the best commercial space for the best terms.
In Orange County, there has never been a better time to rent commercial space. Rents are down because vacancies are up, and even "green" buildings offer tremendous opportunities.
In a nutshell: Of all the major office markets, Orange County is one of the most seriously affected by the downturn. This past year has seen one of the steepest drops ever in rental rates, precipitated, of course, by the large number of businesses that have closed or reduced their usage.
But one company's loss can be another's gain. Every sector of commercial real estate — office, medical, industrial, retail and flex — offers potential users the chance to enjoy reduced occupancy costs for years to come.
LEED (Leadership in Energy and Environmental Design)-certified buildings are of particular interest. They provide scores of advantages: energy efficiency; better indoor air quality, which means a more productive work environment for employees; sustainability; lower long-term costs; and the prestige of being associated with a property at the forefront of environmental awareness.
Whether or not moving or renting new space has crossed your mind, you owe it to yourself — and your company — to look at what's out there. We'll be happy to show you the unprecedented range of available buildings and to explain the unprecedented terms and conditions that are often there for the asking.
I invite you to call me at
(949)759-6661 for more information. Of course, there is no cost and no obligation.