Should You Be Worried When Your Landlord Fails to Pay Its Mortgage?
The short answer to the question posed by the headline is, "it depends." Having said that, let me add that if you are a commercial tenant — office, industrial or retail — you should take steps to make sure your rights under your lease will remain intact. You should also explore other options.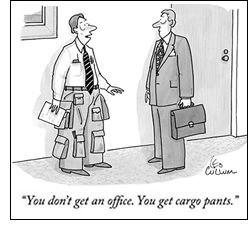 If your landlord has stopped paying its mortgage, you have probably received a notice from the lender to pay rent directly to that lender. At that point, the lender or a receiver is likely in control of the property or about to take control. So you need to take action.
Your leverage depends largely on the provisions in your lease and, more important, on the provisions of any subordination, nondisturbance and attornment agreement (SNDA) you have with the landlord and lender.
If both your real estate representative and attorney negotiated your lease properly, you should be protected in this type of situation. Prudent tenants with effective representation will secure an SNDA at lease inception to protect themselves with respect to existing financing on the property.
In addition, prudent tenants will not agree to automatic subordination in a lease with respect to subsequent financing. If your landlord refinances the property during the term of a lease, its lender will likely ask you for a tenant estoppel and SNDA, if you have not already agreed to subordinate your lease to all subsequent financing in the lease. You then have the opportunity to get the protections you need in an SNDA before the financing is complete.
What if your landlord was in default under your lease before the lender took over the property? Can you look to the lender to pay your tenant improvement contribution, repair the broken pipe, clean up the parking area or finish its construction obligations?
What if the common area is not finished, the landscaping is not complete and the landlord defaults? In this situation, if you haven't negotiated the right to self-help, rent abatement or termination rights, you may be left with an unfinished property. Most lenders will not be interested in throwing good money after bad where they have a non-performing loan. Lenders are in the business of making loans and not managing property and are reluctant landlords or property managers.
There are several provisions your advisers should negotiate in an SNDA to insure your rights are protected in case the landlord defaults on its mortgage:
That the lender will recognize your right of possession as long as you're not in default.
That the lender will complete the landlord's initial construction obligations and pay any unpaid tenant improvement reimbursements. Lenders can set aside reserve funds to protect themselves in this situation. Most lenders won't assume any of the landlord's obligations under the lease — such as maintenance and repairs — unless those obligations are specifically recognized in the SNDA.
That the lender will recognize the landlord's obligation to rebuild in the case of a casualty or condemnation. Many lenders would prefer to take the insurance or condemnation dollars and apply them to pay down the loan rather than restore the property as the tenant expects under the terms of its lease. At the very least, a tenant should get the right to terminate the lease if the landlord (or its lender) refuses to restore the property after a casualty or condemnation.
But what happens if you don't have these protections in an SNDA or in your lease? You can still ask for a non-disturbance agreement if you're concerned that the lender may want to terminate leases that are subordinate to its loan. In reality, most lenders won't want to lose the rent stream coming from the existing tenants — in fact, they will be anxious to protect whatever cash flow is coming from a property. If they have to foreclose on a property, they want to maintain as much value in the property as possible, and the presence of solid, creditworthy, rent-paying tenants is essential to protecting a property's market value.
So, is this an opportunity for rent relief? To renegotiate the terms of the lease? Perhaps. Most landlords and lenders won't want to give permanent rent relief unless they really have no choice, because it reduces the average rental rates in the property (and the market) and depresses the property's value. However, landlords may offer temporary rent abatement or rent reduction, particularly when they fear you might be in financial trouble and need temporary assistance.
In addition, if you're willing to extend the term of your lease or expand the square footage of the leased premises, the landlord might consider an overall lower lease rate. The problem you face seeking lease modifications in today's market is the snail's pace of decision making in most lending institutions. It's simply not quick or easy in any respect, so patience is essential.
We want to thank Pam Milner of the Milner Law Group, a boutique law firm that provides "best in class" legal support to corporate and government clients in connection with their commercial real estate, business, and franchise needs, for contributing this article.
©2009 Pamela R. Milner, Esq.
Need Commercial Space?
Zeve Associates will help you secure the best commercial space for the best terms.
There has never been a better time to lease commercial space. Landlords are hungry, and they're willing to deal. (If you have a strong relationship with your bank, this is also a great time to buy.)
With the recession still adversely affecting businesses of virtually every type, vacancy rates continue to rise. In fact, vacancies in some submarkets of Orange County are pushing 24%, the overall market rate is above 20%, and the yearend number is expected to be higher
So while times are incredibly tough for landlords and sellers, tenants and buyers should be positively salivating. No matter what your current situation, chances are you can find a range of opportunities that will translate into greater profitability for years to come.
Rightsizing is the issue that many organizations are considering. What that means is making sure you have the right space for your company's current needs and the flexibility to expand in the future. If your facility is too big for your present operation, but you expect your requirements to grow in the future, now is the time to negotiate a lease — or to make a purchase — that will give you the best bang for your buck — now and later.
For more than 20 years, we and our colleagues in allied firms have helped hundreds of clients find locations that build business, help employees become more productive and have a positive effect on bottom lines. strong credit and a good relationship with their bank.